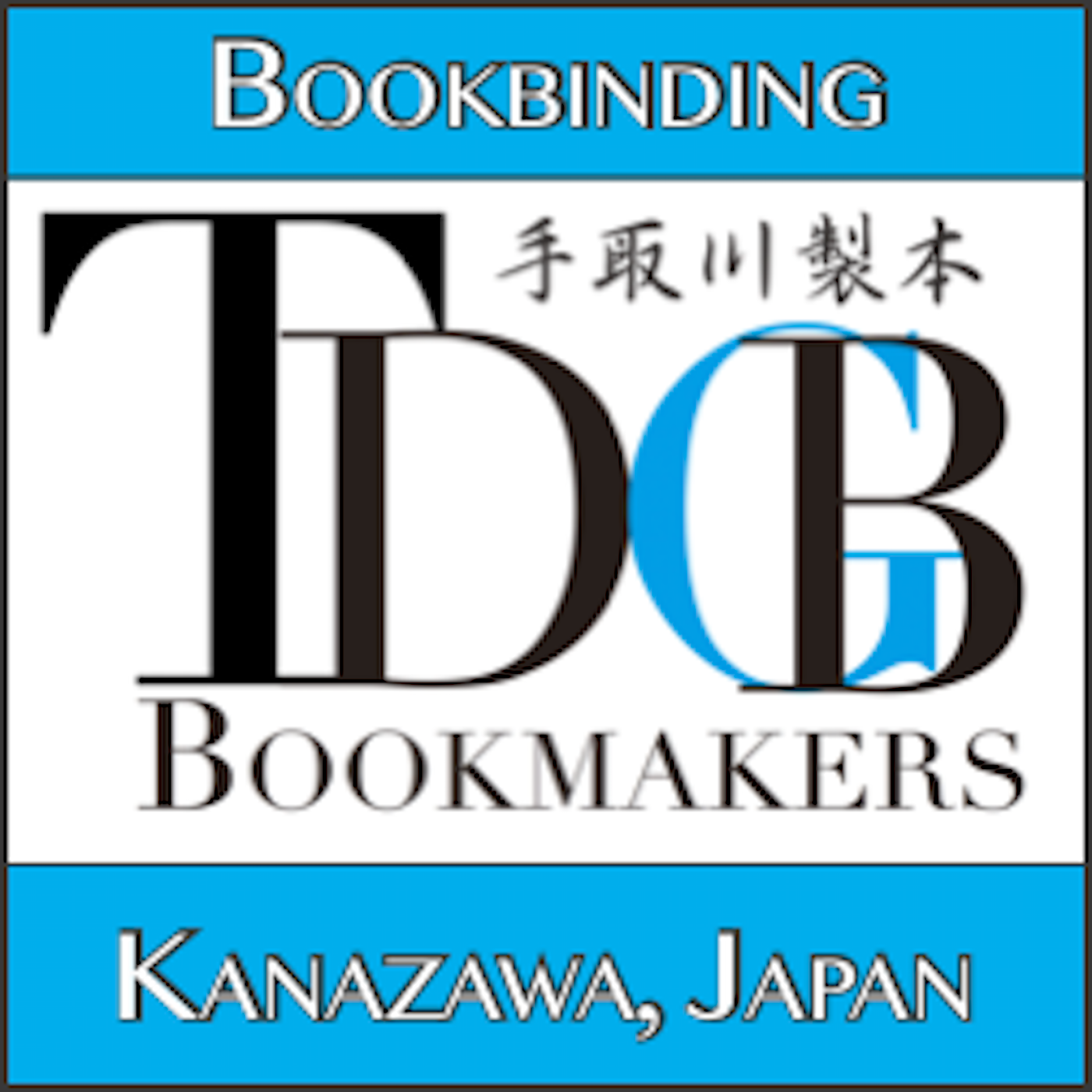 I distributed copies of my Hunting Kanazawa: a guide book and language text to several (okay, six) of the restaurants and coffee shops in the book. First, of course, I measured and cut the endpapers, the book boards and the book cloth. Second, I glued the endpapers to the text block, and glued the book cloth the the book boards. Next, I glued the text block to the covered book boards. Sounds simple enough but it's amazing how long it can take. I did ten in one day and have six more to finish. Only, so far, one mistake (the day a restaurant is closed.)
The Covers! Five of the covers are regular light blue (looks white in the photo, but it's not) and dark blue. Both have the opposite colored marker on the front of the book. The marker mimics the title piece on a Japanese-style book: rectangular and vertical. Each Hunting Kanazawa is A6 in size. (148 mm x 105 mm. About 6" x 4" for you USA-centric readers; i.e. about the size of a paperback.) They are approximately 100 pages so suitable for carrying around in your pocket. Also, there are 38 pages available for doodling and scribbling notes to yourself or others.
The Other five covers are ripped from two different kimono. One is a darker and thicker cloth which is fun to hold. A very tactile cloth. The other four kimono covers are silky and thin. I gave all the shops a choice of kimono-clad book or regular book cloth-clad book. I was surprised that most chose the kimono-clad one, because I was told re-using kimono cloth was not something done. Maybe they were talking about expensive kimono, not the ones I can afford to buy.
A mostly positive response from those who have seen and read bits of it (except for the one error. I hope there's only one.) The language section was praised in that the waiter can point at the Japanese and the non-Japanese customer can read the English equivalent, assuming they can read English and vice versa.
 email: tedorigawa.bookmakers@gmail.com
YouTube: Tedorigawa Bookmakers
Facebook:  Tedorigawa
Instagram:  Bookbinder 2015