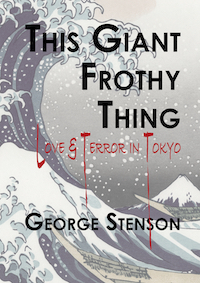 Spent a few hours cutting and gluing some endpapers on Hunting Kanazawa (a guide book with Japanese language lessons and restaurant recommendations) but have 10 more to go and I need to speed things along. Samples of these books need to be in store owners' hands before December as there is a 2019 calendar included. I'm really really late, I know. Let's consider these as samples of what to expect Next Year (2020) and hope next year I manage to finish by October or earlier. I'm thinking of dropping the restaurant recommendations for two reasons: one, they disappear quite quickly either because they don't have the customers or the owners have decided to quit or move on to another adventure. Two, there are too many to seriously cover in such a small book.
This Giant Frothy Thing: Love & Terror in Tokyo is the next book I will have for sale both digitally in all the familiar places plus as a real book made by me. It is six stories. The main characters of each story experience either love or terror. They also run into at least one character from another story. Usually, but not always, at a coffee shop. They all order a giant frothy thing; something Starbucks has opted to name a frappuccino.
For example, in Obayashi, Obayashi, a woman who just graduated from college, after drinking, goes to a coffee shop with a male and very drunk female fellow graduate. The female tells Obayashi a secret, which upsets, irritates, and saddens Obayashi. The man makes a move on the female, going so far as to cope a feel and expose her in the coffee shop. Obayashi and the man get into a fight (not a shouting match; coffee is thrown). The coffee shop manager calls an ambulance for the overly drunk female. 
Three things happen. First, Obayashi storms out of the coffee shop. She rushes across a park to grab a taxi. In the park, she runs past a man composing music. She jumps in a taxi and discovers the driver loves playing shogi and Bottecelli. As does Obayashi. They decide to get together to play shogi and talk art. Second, the man in the park gets his own short story (Aikawa) and we learn what he does and who he meets. Third, the coffee shop manager gets her own short story (Suehiro) after she meets someone who has the same love of travel as she has and we learn what happens to them.
As you might be able to tell, I don't have a cover for This Giant Frothy Thing that I am comfortable with. Any suggestions? Let me know.
Don't forget: The Merchant of Venus & Other Stories is for sale on Apple Books, Amazon, Nook, and Kobo.
email: tedorigawa.bookmakers@gmail.com
YouTube: Tedorigawa Bookmakers
Facebook:  Tedorigawa
Instagram:  Bookbinder 2015